Date/Time
Date(s) - Fri, 15th Feb 2019
10:00 AM till 5:00 PM
Location
Alexander Technique Centre
Category(ies)
or
iCal
or
RSS
Hosted by: Loretta Manson, Liz Dodgson and Regina Stratil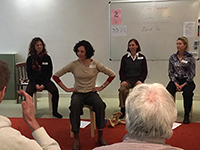 Teachers at a previous Parkinson's Disease workshop
Two CPD workshops for teachers wishing to learn more about working with pupils affected by Parkinson's
Following on from previous workshops and activities, The Walter Carrington Educational Trust (WCET) is subsidising places for ten STAT-registered teachers to participate in two workshops supporting teaching the Alexander Technique to pupils with Parkinson's Disease. Parkinson's UK has kindly agreed to fully fund the remaining cost for 6 participants. Both workshops must be taken together. Special training will be given in the mornings, followed by hands-on experience with people living with Parkinson's in the afternoons.
Maximum ten teachers. A certificate of attendance will be given.
Please note, only limited places remain on this workshop as they were initially offered to those who registered their interest last year.
If you would like to apply, please read all information on the WCET web page "Programme for Alexander Technique Teachers 2019" carefully. A small amount of home study before the start of the programme will be recommended and links to the recommended material will be provided. Please make sure that you can commit to coming on both days.
Cost of Training: £250, of which £50 will be covered upfront by the Walter Carrington Educational Trust. The balance of £200 to pay covers both workshops, which must be attended.
How to apply: Please for more information ctcparkinsonsproject@gmail.com for more information
Questions?
Please contact Liz or Loretta:
Liz Dodgson
elizabeth@atteacher.co.uk
07762 085840, 020 8994 9527
Loretta Manson
loretta@greaterpoise.com
07949 190 595
====================
About the Teachers
LIZ DODGSON trained with the Carringtons about 16 years ago, and runs a private practice from home and from Roko Gym in Chiswick. She particularly delights in helping people to be able to return to enjoyable, pain-free activity and works regularly with runners in particular. Having had only one student with Parkinsonism during her sixteen years of practice prior to this initiative, she feels that a concerted effort may be needed if the benefits of AT are to be brought to this community.
LORETTA MANSON trained with the Carringtons at the Constructive Teaching Centre in London, graduating in 1997. She teaches at The Bloomsbury Alexander Centre in Holborn and at The Alexander Technique Studio in Wandsworth Common. A keen dancer from childhood, and now very involved with Lindy Hop and Argentine tango, Loretta was diagnosed early on with scoliosis and multiple joint problems. First-hand experience of living with long-term pain and fatigue gives Loretta particular insight into the challenges faced by pupils in need of relief from tension, pain, backache, low energy and mood. Loretta values the Alexander Technique as a constructive approach to managing our individual limitations and living as fully, freely and joyfully as possible.
REGINA STRATIL trained at the Alexander Technique Studio in London, qualifying in 2014, and now runs a private practice at the Alexander-Technik Studio Graz in Austria. She has a particular interest in applying the Alexander Technique to movement and movement difficulties, having a strong movement background herself as a martial arts expert of 25 years' experience. After studying Chloe Stallibrass' research on Alexander Technique and Parkinson's and participating in a workshop with The Poise Project, she became passionate about the potential benefits of the Alexander Technique to the quality of life of people living with Parkinson's. Regina had initially been the connecting link to the Walter Carrington Educational Trust and instrumental in moving this initiative forward before moving back to her native Austria in 2018.